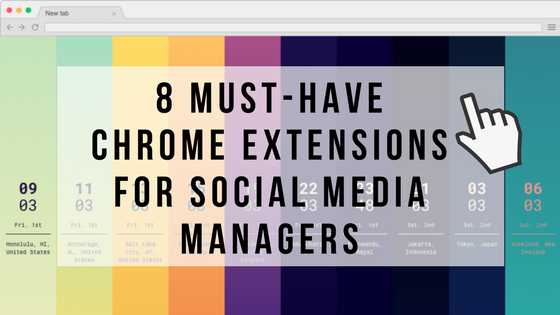 04 Jan

8 Coolest Chrome Extensions for Social Media Managers

Welcome to the genies' ode to Chrome extensions. Like napkins when you eat, they're not technically required, but keep things from getting messy in the long run.

Those in the social media space are no stranger to hectic processes. We download drives full of photos, craft copy for many brands at once, and scour the net for shareable content – all before lunchtime. If your New Year's resolution is to become more organized, our top 8 favorite Chrome extensions may help you achieve it.

(Click the headers if you'd like to download each of the Chrome extensions below)

The power of this link shortener knows no bounds. That's why we use Bitly all day, every day (PS, this is #notspons)

Why we ❤️ it: Whether to make long URLs more digestible or to track clicks per link, Bitly does it all quickly and without fuss. Links can even be customized to increase viewer trust and clickthrough rates.
It's particularly useful when you spend your day searching for photos of pufferfish.
When the Dinstagram extension stopped working with Chome, we weren't sure another would be able to take its place. Luckily, Downloader for Instagram has become a reliable method to save UGC and keep for later use.
Why we ❤️ it: Images are automatically downloaded in high res (no more screenshots), so we're sure to get the most out of the user content we discover.
My personal favorite, the Grammarly extension automatically checks for spelling and grammar issues as you type. The genies are pretty dang smart, but we're not perfect.
Why we ❤️ it: Grammarly acts as a backup in case we misspell something while working on our fifth content calendar for the month. It's also perfect for spellchecking important emails and other communications.
Gossip Genie is fortunate enough to have amazing clients not just all over the country, but all over the globe. We love working with our international brands, but scheduling can be daunting when new time zones are taken into consideration.
Why we ❤️ it:
 Besides sharing a name with one of the
greatest 90s shows of all time
, FIO allows us to add several different time-zones so we can monitor and make certain that we aren't publishing our
#MondayMorningMood
post on a Tuesday afternoon.
Making lives easier since 2012. This one might seem obvious, but that's just because it's a necessity for those who run brand Pinterest accounts.
Why we ❤️ it: the Pinterest extension makes the pinning process as simple as 1-2-3! For content outside of the network, there is simply no better way to repin content directly onto the platform.
Some brands produce all their own content. Others, like our educational technology client, find success in sharing industry-relevant news and articles. For these posts, Evernote Web Clipper is a vital extension.
Why we ❤️ it: Much more efficient than opening twenty tabs and better organized than bookmarking. It allows us to save, mark up, and sort articles for future use.
While the genies are lucky enough to work out of one central office, the Loom Chrome extension is a fantastic extension if your team is geographically diverse. It's the next best thing to in-person communication.
Why we ❤️ it: Loom allows users to record or share their screen with anyone using only a generated link. From there, you can either type annotations and notes, or simply speak into the microphone. This is useful for client demonstrations that can't be done via phone.
There's no stopping Instagram Stories in 2018, with more users and brands beginning to tackle the feature every day. Chrome IG Story allows users to download stories from Instagram (albeit without sound for now), for sharing or later use.
Why we ❤️ it: We often create IG stories for brands that would like to review them after the story has expired. With this extension, we can download the ones we've created, and attach them to client emails or save them to our desktop for review.
Are there any must-have extensions that we missed? Let us know in the comments below!