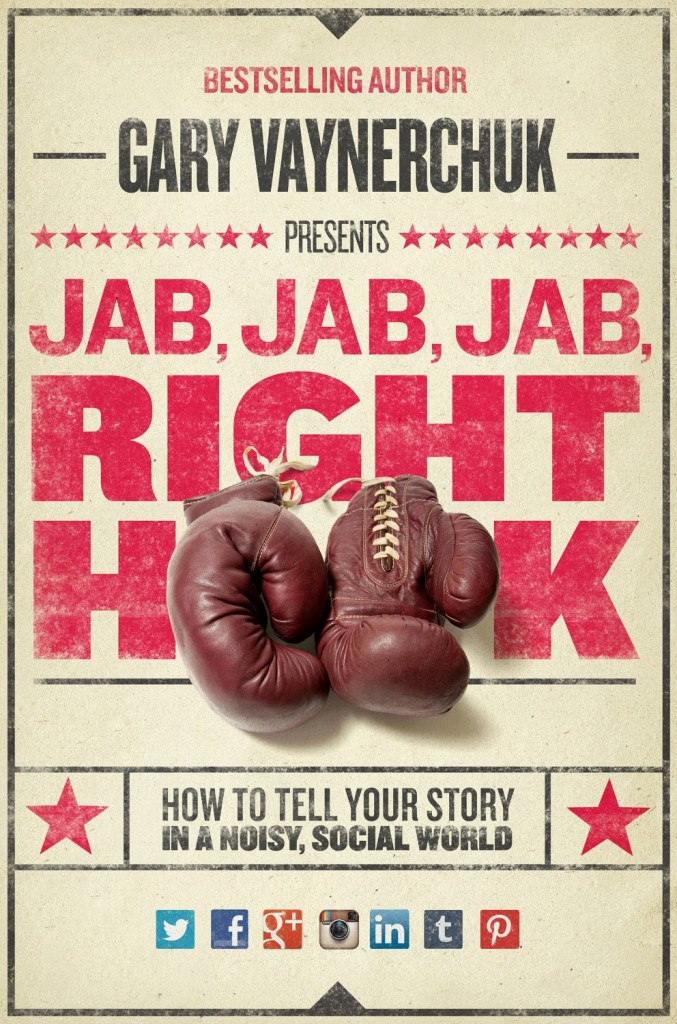 I recently read Gary Vaynerchuk's book Jab, Jab, Jab, Right Hook: How to Tell Your Story in a Noisy Social World. Vaynerchuk is a New York Times bestselling author and social media expert and his latest book is a blueprint of sorts for social media marketing strategies. It really makes you rethink how you market and sell to your customers. I would definitely say it's a must-read for anyone working in marketing or social media and anyone who wants to understand the power of social media marketing. I particularly enjoyed the numerous examples of how companies like Dunkin' Donuts and Lacoste have successfully (or unsuccessfully) used social media to market themselves.
Referring to the title, "jabbing" is creating content for consumers and engaging with customers to build relationships. The "right hook" is developing and implementing that next campaign that will produce profits and convert traffic to sales, easily showing a return on investment. In the book, Vaynerchuk explains how important it is to focus on not only developing high-quality content (jabbing) but truly engaging with customers and adapting your message across the various social media platforms (the right hook).
The main message in the book is that you need to emotionally invest in your customers for them to care about you. If you sell too hard on social media, people will ignore you, but if you support your community, they will want to do business with you. At Gossip Genie, we are continually developing relationships with our audiences and listening to what they have to say.
After reading the book, here are some quotes that stood out most to me as a social media manager:
On the power of social media: "It took thirty-eight years before 50 million people gained access to radios. It took television thirteen years to earn an audience that size. It took Instagram a year and a half."
On social media marketing: "The incredible brand awareness and bottom-line profits achievable through social media marketing require hustle, heart, sincerity, constant engagement, long-term commitment, and most of all, artful and strategic storytelling."
On Twitter: "It closes the six degrees of separation to one degree of separation"
On Facebook: "One out of every five page views in the United States is on Facebook!…On Facebook, the definition of great content is not the content that makes the most sales, but the content that people most want to share with others."
On listening to the consumer: "I pride myself in listening. When you have people paying attention to you, your biggest job is to listen what they want. Deliver what your community wants. Social media has much more upside when you're actually listening and responding and reacting."
On followers: "It's not how many followers you have, it's how many care."
On tapping into your market: "You've got to tell your story to the customer where the customer actually is…head-down, in their mobile device."
On creating content: "Creating content that allows us to share our experiences, thoughts, and ideas in real time is becoming an intrinsic part of life in the twenty-first century."
On the importance of context: "Today, getting people to hear your story on social media, and then act on it, requires using a platform's native language, paying attention to context, understanding the nuances and subtle differences that make each platform unique, and adapting your content to match."
On creating connections: "Your job is to create a connection. You can talk, talk, talk all day long and never make one honest, real connection with another human soul. But you've only got one real job online… and your job is to "create" a connection. Your job is to find the connection between you and that "one" follower at a time, heart-to-heart, soul-to-soul. If you focus on that one connection until it clicks and sticks, then others will watch, listen, and follow you, too. Your only real job is to find, create and nurture that one connection. Once connected, simply do it again… and again…"
On life: "Love your family, work super hard, live your passion."