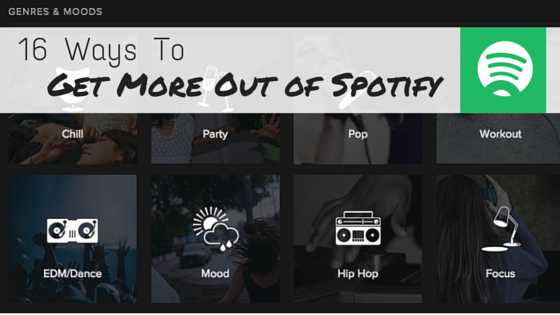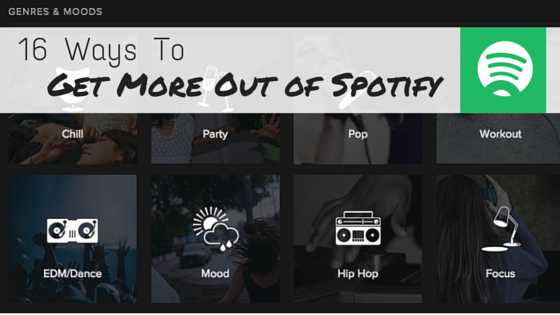 In today's digital market, streaming services have entered a full-blown rat race for your attention. From original heavy hitters like Spotify and Pandora to up and coming contenders such as Tidal and Apple Music, consumers now have more options than ever to satisfy their listening needs.
However, unless one of these new outlets decides to buy me dinner, my commitment stands with Spotify. As a service, it continues to modify and improve the listening experience of its users — an essential move in order to remain on top.
I noticed, though, that many of my friends and family members don't stay up-to-date on the new features that it regularly releases and because of this, are not utilizing the service to its potential.
So, I decided to create this blog post to help better your Spotify experience (after all, you want to get the most out of that $10 a month, don't you?)
Music Discovery
Anyone who knows me well knows that I am a huge music junkie and avid concert-goer. I am constantly on the hunt for new music and nearly all of the great songs and artists I find are thanks to Spotify.
Loaded Playlists: Open up your 'Browse' tab, and dive into a virtually bottomless pool of new content. In one place, you will find playlists dedicated to today's top charts, specific genres, and all moods and vibes.
Discover Weekly Playlist: Last week, Spotify announced that it would begin creating personalized playlists for all of its users. Now every Monday morning, you can find a brand new mixtape waiting for you, based on the artists and genres you listened to the week before. So as your taste in music evolves, so will your weekly playlist — pretty cool, right?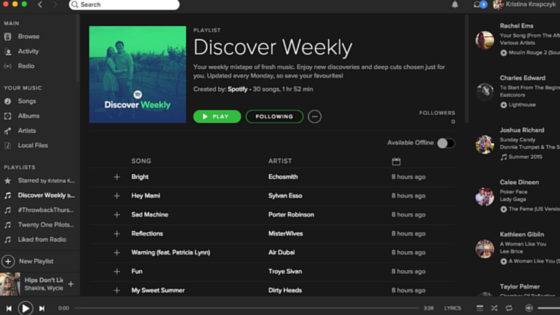 Brand Playlists: Did you know that loads of brands are on Spotify, too? The next time you're digging your favorite store's playlist, search them in the app to see if it's posted! To do this, navigate to your search bar, type in the brand, then scroll down to the 'Profiles' subtitle to see if it's there.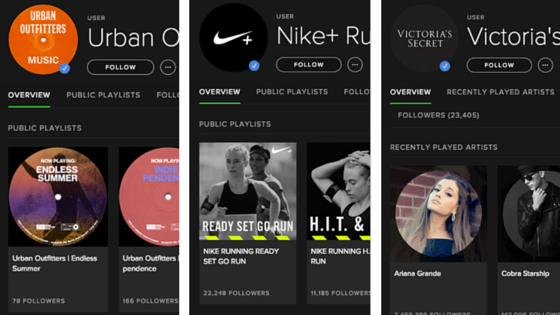 Discover Tab: In addition to the Discover Weekly playlist, Spotify compiles a list of artists and albums you might like as well. For example, I listened to Bombay Bicycle Club last week so it suggested I give Los Compensinos! and Noah and The Whale a listen too because they produce similar music. To find these lists, head to your 'Browse' tab, then click 'Discover.' Wait, feeling the artist you're listening to right now? Find others just like them by simply hitting the 'Related Artists' tab on their profile.
Check Your Notifications: Although this one is not hidden, many users simply have no interest in perusing the updates Spotify sends to them. If you don't, start! Spotify stays on top of new album releases and single drops so you don't have to. Simply make sure that you're following all of your favorite artists, and Spotify will let you know when they've added new content to stream.
Artist News
Spotify loves keeping you in the loop on the whereabouts of your favorite artists. Whether they're in town or releasing a new album, it'll make sure you have access to all of this information.
Upcoming Show Announcements & Offers: If you follow an artist, you will be able to see their upcoming shows on their profile. Moreover, you can even buy merchandise using Spotify as well. When I navigate to Twenty One Pilots' profile, for instance, I can see that they have a Lollapalooza after show coming up this weekend.
Artist Playlists: Artists often have public playlists available to their followers on their profiles. This keeps you connected to what they're listening to while hopefully discovering a few jams to add to your collection as well.
Lyrics: This is a super neat addition to Spotify's desktop features. Now, you can sing along with your favorite tunes as if you were watching a lyric video on YouTube.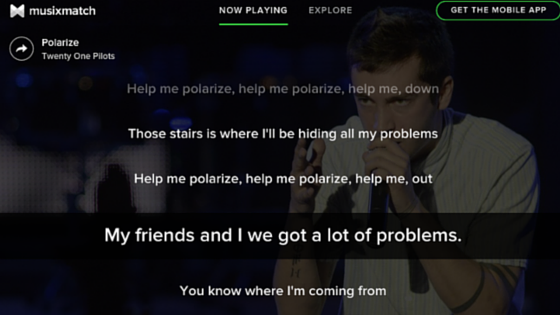 Social Networking
I love the social networking features Spotify has to offer. I can now listen to music with friends in ways that were never before possible.
Sending Music: Probably the most obvious way to share music with friends is through Spotify Messages. Through Messages, you can send other listeners songs, albums, artists, and playlists. It's an awesome way to share and collect music with those who understand your taste best: your friends.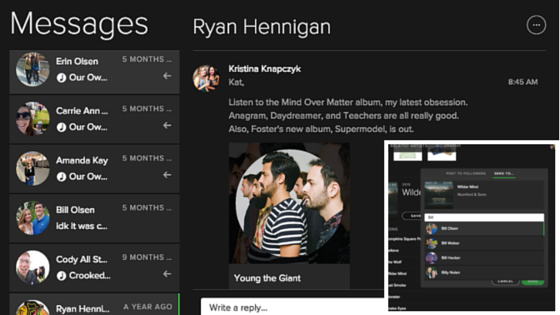 Collaborative Playlists: Spotify also allows more than one user to contribute songs to a playlist, which makes crafting the perfect combination of tunes turn into a group effort. I've seen people use this feature when putting together a playlist for birthday parties and barbecues.
Friends Top Tracks: Relying on the friends feed is no longer the only way to discover what your friends are listening to. If you go to your 'Browse' tab followed by 'Charts,' you'll find a playlist entitled Friends Top Tracks. This is a collection of songs your friends have been listening to so you can check them out yourself. It even specifies which friends are playing each song.
Functions & Utilities
Spotify is constantly working on ways to improve the overall navigation, usability, and convenience of its service. These additions to its app really do enhance the user experience, which solidifies its position as a top streaming source.
Private Session: I can't tell you how many times I've suggested friends use Spotify only to hear, "But I don't want everyone to know what I'm listening to." Not a problem — Spotify gives you complete control over this. For a temporary fix, turn off updates by clicking 'Private Session' in the drop down menu next to your name in the top right corner. To make this change permanent, navigate into your preferences, and turn off both Facebook and Spotify feed updates. With these features, your love of ABBA and the Grease soundtrack can remain a secret.
Queue: I only recently discovered that Spotify allows you to add songs to your play queue without altering your playlist. If you would like to listen to a song next without having to save it to your list, just right click on the track and select the appropriate option.
Local Files: So, how do we survive now that Taylor Swift pulled all of her music from Spotify?! It's simple: add local files to your library. You can upload your music from iTunes into the app in your preferences. With this feature, 'Blank Space' can be a part of all the playlists you like!
Download Music: I truly believe that splurging for the Premium experience is well worth the money you pay each month. Included in the $10 you spend is the ability to download songs onto your smartphone, tablet, or computer. This saves your data while also allowing you to listen to music in areas where Wi-Fi and/or 4G signal is weak.
Smartphone Controller: I love this feature! Using my Android, I can quickly change what I'm listening to on my computer, no matter what room of the house I'm in. This way I don't have to sacrifice volume for convenience.