Yesterday was Community Manager Appreciation Day and after a long chaotic Monday at work, we all ventured out in sub zero temperatures to have a team dinner at Summer House Santa Monica. Despite the frigid temps outside, it felt like summer inside. Our team toasted to a day that appreciates the work we do and I felt very proud of this team that has taken 4 years to build. Everyone brings something unique to the table, personally and professionally. Despite the fact that we work together, it felt like a dinner amongst friends and there is nothing more important than autonomy. The best feeling is knowing that you can be yourself amongst your coworkers. I think this is the foundation to long lasting working relationships.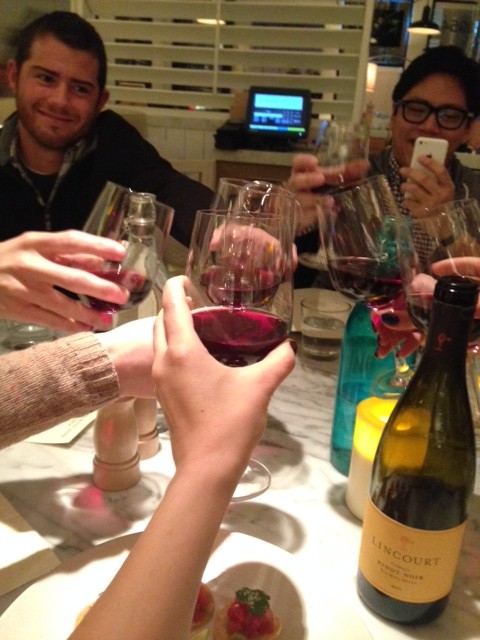 Team Toast for Community Manager Appreciation Day at Summer House 
People always ask me how I make my hiring decisions, to be honest, there are a million things that contribute to finding an ideal candidate. I am very particular when it comes to hiring and after 4 years, I feel like I have figured it out, not entirely but mostly. Aside from the obvious attention detail, compelling resume, intelligence, experience and industry knowledge, I hire people that I know I will enjoy being around. Here are some other things I look for when hiring someone:
A sense of humor: When times get stressful, sometimes, the only outlet is a good laugh. You will often find the Genies laughing until we cry during our lunchtime impression sessions.
A little bit of Positive OCD: Every successful person I know has a quirk or two. You have to be a bit obsessive about your work at Gossip Genie because everything we do is publicly published.
Someone that is family oriented and a good friend: People that understand the importance of other people are great team players. Furthermore, they have a great support system which usually means, they know how to be supportive.
People that like dogs: You have no soul if you are a dog hater.
Must love sweets…If you don't have a bite of the chocolate chip rice crispy treat cookie with peanut butter ice cream and hot fudge on top (from Summer House), I don't want to work with you!