When you are running a start-up, you have to view everything as an opportunity. I try to stress that to my coworkers as well. Many of our clients come from referrals, website inquiries and traditional outreach methods but here are a few that came from unique situations.
Top 5 Best Client Connections
1. I met a client at a baby shower. We were decorating onesies for the unborn baby and I struck up a conversation with the woman sitting next to me. It turned out that this woman was the marketing director at Vogue Knitting Live. Next thing I knew, we were contracted for our virtual publicist services to capture a "yarn bombing" event at a school in Chicago.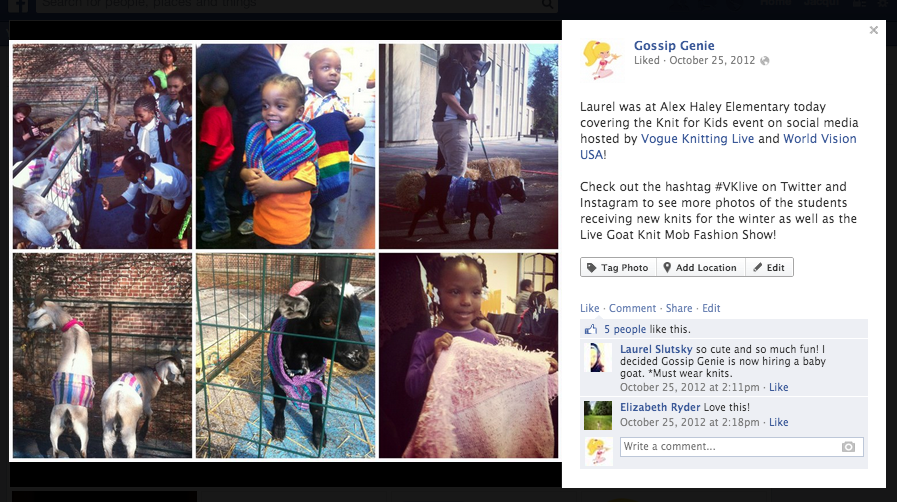 2. & 3. Elizabeth, our newly appointed Director of Social Media, plays a different sport just about every night of the week. Dodgeball, volleyball and softball have been a fruitful source of clients for Gossip Genie. Based on the increase in clients, you would think Elizabeth was attending networking events. No, she just treats every situation like a networking event. Dodgeball brought us our beloved TUBC client and volleyball brought us the challenge of getting this Kickstarter campaign funded for BikeSpike.
4. In January, we decided to get professional photos taken of our team. We ended up using the same photographer that shot my engagement photos. After a session in our office, with our team, we had new head shots and a new client! 

5. Through the grapevine. Jayme Joyce is someone that I used to work with and we have stayed in touch since we both left our previous jobs and started our own ventures. Jayme stared Joone Studios  and she is an amazingly talented producer/videographer. Jayme is also a power connector, always sending me introductory emails to great connections. Last summer Jayme introduced me to someone that worked at an ad agency. Upon connecting with this person, he told me that it was his last day at the firm. He connected me with his boss and after a brief meeting, there were no apparent opportunities. Eight months later, out of the blue, the agency threw a big project our way.