Michelle Phan – 25 year old, self-made millionaire. While working as a waitress in 2006, she began posting makeup tutorials on YouTube. Her makeup videos, which include titles like, "Romantic Valentine Look", "Makeup for Glasses", "Brighter Larger Looking Eyes", and her most popular video, "Lady Gaga 'Poker Face' Tutorial", were almost instant hits. Her videos have been seen almost 600 million times, and she has over a million subscribers to her channel. Her popularity has led to numerous magazine articles and editorials, including features in Seventeen, St. Petersburg Times, the Sun Sentinel, NYLON, and Forbes Magazine. She also formed a lucrative partnership with Lancome, and features their makeup in all of her tutorials.
Phan's Facebook page has over 1 million likes. You would think that posts would be approved by a team of editors before publicizing when you have that kind of a following. Well, clearly that is not the case with one her most recent posts: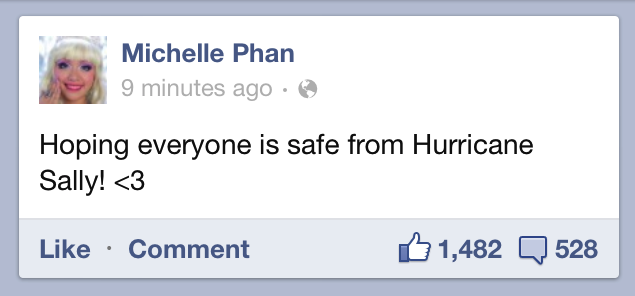 This post is a major fail on so many levels!