After an annoying 24 hours filled with fender benders and computer glitches, I am reminded of how lucky I actually am. We should all feel lucky to be alive and remember how short life really is. As a social media marketer, it's hard to avoid the news surrounding this past weekend's tragedy. If you're reading, you know what I am referring to – James Holmes and the Colorado massacre that killed 12 people, injured 58, all while attending a midnight showing of The Dark Knight Rises. Even still, I get sick to my stomach thinking about someone that could do something so horrific.
Obviously, social media was and still is overflowing with conversations surrounding the incident (check out these hashtags #JamesHolmes and #coloradomassacre). It's interesting because everything I have read has little to no information about Holmes. Many sources are saying that it's because he lacked any online footprint. In a digital age, that is hard to believe. I dug deeper and did not find a verified Facebook page or Twitter account for Holmes but I did find something quite disturbing. On July 5th – Holmes created an online profile through adultfriendfinder.com, "The World's Largest Sex Dating Site & Swinger Personals Community." Holmes' quote to live by as posted on the site – "Will you come visit me in prison?"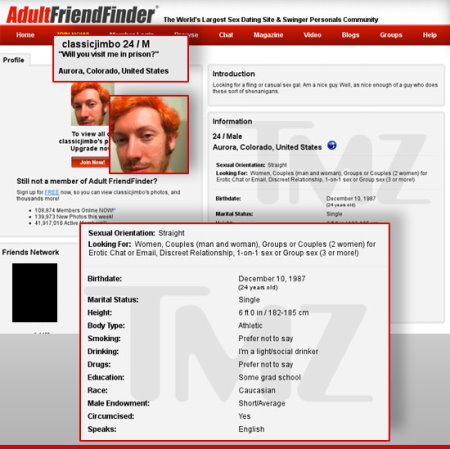 At this point, all we can do is pray for the victims' families because there is really no sense in wasting time trying to figure out just how deranged Holmes is. His actions speak far louder than anything anyone ever wanted to hear.