Did you know that you can send someone a potato in the mail? Yeah, like… an actual potato. If you're a normal human being, there are probably a million questions going through your head right now – the most important being, "Why would you ever send anyone a potato?!" One inside joke later and a long story short – I asked my brother what he wanted for his birthday and in turn, received this weird potato meme. What do you do with that kind of sarcastic response? You open Safari and search, "send someone a potato." Thanks to Google and Potato Parcel, I was able to have a prank potato in the mail about 5 minutes after receiving my brother's text (see below).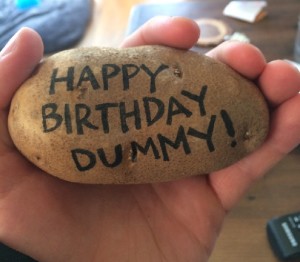 To answer your second question – yes, I was just as surprised as you are that you can actually mail someone a potato. Could I have gotten a potato from the store and mailed it myself? Sure, but these people have got it down to a science, so why bother? My little potato prank got me thinking about other prank (or revenge) items that companies will send in the mail for you. Check out some of the hilarious, bizarre and even gross things I found below.
Photo via shipyourenemiesglitter.com.
When I saw this my initial thought was, "I could definitely think of worse things to send to an enemy." I wanted to know how the glitter sending process works, so I watched this YouTube video. Although this company sends self-described "glitter bombs," the product hardly lives up to the hype. Sure glitter is annoying because it sticks to literally EVERYTHING, but you're essentially spending $9.99 for a bunch of glitter (that you could've paid $3 for at the craft store) to fall out of a piece of paper. On another note; they also sell "farm made horse manure, sprinkled in glitter," posed as a cupcake and surrounded with toilet paper. I know… what?! Warning: the custom cupcake is NOT edible.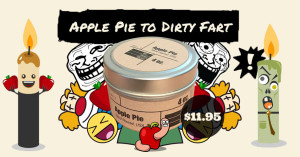 For those with a lighter sense of humor and less hate in your heart, WTF candles are the mail-order gag gift for you. With the appearance of a lovely gift, these candles are actually more of a ticking time bomb. The first few times they're lit, your victim won't notice anything unusual. Then one day – BAM! Sweaty gym sock smell all up in your living room. Ranging from "dirty fart" to "stank breath," these anonymous candles are the gift that keeps on giving. Seriously, they have a 30 hour burn time.

I'm still having a hard time believing that I just typed that. Poop Senders, the name almost leaves no need for an explanation. Almost. According to their website, this company, "will (anonymously) send your friend or enemy a healthy helping of some of the nastiest, stinkiest, fresh poop packages you have ever seen." You can even choose from cow, elephant or gorilla poo – lucky you! It appears that this service is in high demand, Poopsenders.com has over 10,000 Facebook fans. Uhm, what?! I guess if you really want to get even with someone, this is your chance.
Note from the editor: What goes around, comes around. Right, JT?