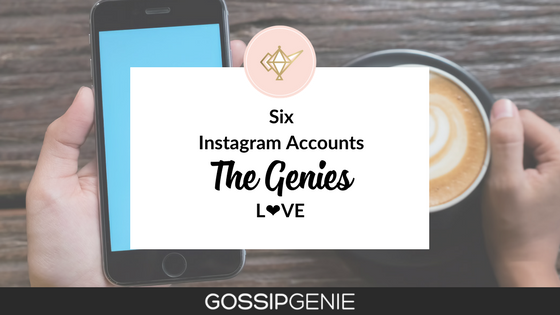 Valentine's Day may have passed, but our GG hearts are still aflutter. You know the drill: with fickle affections, we follow and unfollow many a brand and influencer. Yet, there are always one or two that we will devotedly double-tap 'til they post no-longer. I asked the Gossip Genie team to identify an account they truly ❤, and these were their answers:
Janelle: 
@nois7 — He is a traveling photographer that is always stretching the boundaries with photography and digital editing. The seamless combination of his imagination and technical skills result in high-quality content. You will find yourself staring at his Instagram in awe for ages. #photographygoals
 Anthony:
@food52 – I love to try new recipes in the kitchen, so I'm always scrolling their feed to gather cooking/baking inspo! They're one of the best accounts to follow if you go crazy for photos of food, and they're always creating really well-crafted, interesting Instagram stories.
 Keenan:
@natgeotravel is my pick. This is a huge account, obviously, but that's because they're one of the best in the game and they've definitely earned their following! It's on my bucket list to have one of my pictures featured on there one day. Wish me luck!
Violet:
My favorite account to follow by far is @TribeHummus. Their content is super funny and they are always posting trendy things relevant to their brand. Whether it's a trending meme, phrase, etc. They are killing the social media game. I follow them and I've never even tried their hummus!
Taryn:
The news makes me incredibly sad. Some days on social media, I feel inundated by messages that make me want to curl up into a ball and cry. Instead of completely avoiding the news, I've learned to follow more accounts that make me smile and put me in a better mood before putting my phone down. @MommasGoneCity is a blog that I've literally followed for several years (back when she had 3 kids, 1 dog and no cats!) but I need that comfort and joy more than ever. Her children (and animals) are so freaking adorable and I love the genuine messages she writes about sending love into this world. I also love that she's raising an army of little feminists. Her posts never cease to put me in a better mood and I find myself checking her page every single day.
Me (Lizz):
My favorite account is similar to Anthony's (great minds think alike!) 👉🏽 @jesseszewczyk. He's the Food Editor at Buzzfeed NYC and I DROOL over his content every single day. Jesse's not just blessed with amazing photography skills – his Instagram Story game is strong too. The food he makes looks so delicious, it literally brings a tear to my eye. He features recipe ideas to inspire foodie followers, and I use that inspo to help spark my own ideas for the many food-focused clients we run. A word of warning: don't scroll too long on an empty stomach!

Now that you know our picks, tell us which accounts get your heart pounding! Let us know in the comments below 👇