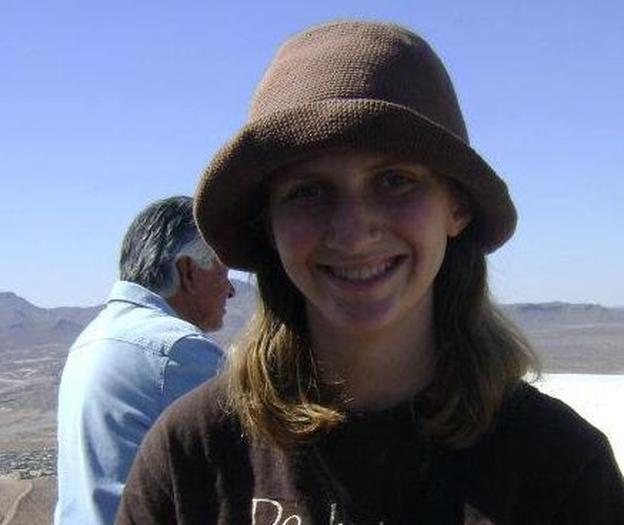 Bridget Hughes of Las Cruces, New Mexico lost one of her most important posessions: a hat. While the hat pictured above might not look like anything special, it's a piece of sentimental value for Hughes. It was the hat her mother wore during chemo treatments before passing away from breast cancer when Bridget was 7. It is "the only possession of her I could constantly carry with me."
She took to her Facebook page to see if anyone had found it and the response was overwhelming. So far, the post has over 37,000 likes and over 220,000 shares.
Here's her post:
My name is Bridget Hughes and on Monday November 26 at around 12:30 a.m. I was at the B7 gate in Phoenix Sky Harbor International Airport waiting to board U.S. Airlines flight 2918 to El Paso. My flight was cancelled. In all of the chaos that ensued me getting my new ticket and my hotel voucher I lost one of the most valuable things I own. It is a simple knit brown floppy hat from the Gap (pictured below).

My mother passed away from Breast Cancer when I was 7. This is the hat she wore most often during her chemo treatments. My aunt gave it to me when I moved away after I graduated from college. It was one the only possession of hers I could constantly carry with me. I checked the gate the next morning, the hotel, and my shuttle van. It was nowhere to be found. I've contacted the Phoenix Airport Lost and Found, but I doubt I'll hear back from them. So, I've turned it over to the power of social media, all for a hat that represents the fierce goofy independent spirit of a woman that is my mother. If anyone is willing to just share this status, I'll be really grateful.
The hat still has not been found and Hughes even had to write another Facebook post telling people to stop calling and bothering the Phoenix Airport.
Even though Bridget's hat is still missing, her story shows the impact social media can have and the sense of community it brings. When you see so many Facebook posts of people using hurtful words or using social media as a way to bully, it's comforting to see people band together in support of a girl's missing hat.  As Bridget said, "If the hat does not turn up, I will be sad, but my life will go on and I will have been put in contact with all of you and your stories. For the kindness that you've shown me, thank you."