Being the huge sports fan that I am, this playoff season/series for the Bulls is killing me.  If you are a Bulls fan, like myself, the playoffs couldn't have come quick enough with all the injuries and winning streaks during the regular season. And obviously seeing Derrick Rose, finally healthy in the playoffs, and what so many of us assumed, the Championship.
Oh how quickly things can change. Fast forward a few weeks and the Bulls are staring elimination in the face down 3-1 to the 8th seed Philadelphia 76ers. D. Rose is out with a torn acl, Noah out with a severe sprained ankle, Deng still hurting with that wrist, and oh yeah almost everyone on the team has forgotten how to play defense and put the basket in the hoop.
Being a die hard Bulls fan, I couldn't be more crushed. One thing that has made this series a little easier is Twitter. Being fairly new to twitter, I have really enjoyed following the sports writers and announcers, especially during this series. Twitter has also shined some light and made me realize how many others are reeling over this Bulls team and the impact sports have on so many of us. Social media is the new way we express ourselves and twitter is the best way to do it.  Take a look at some of these tweets from everyone regarding Rose and the Bulls: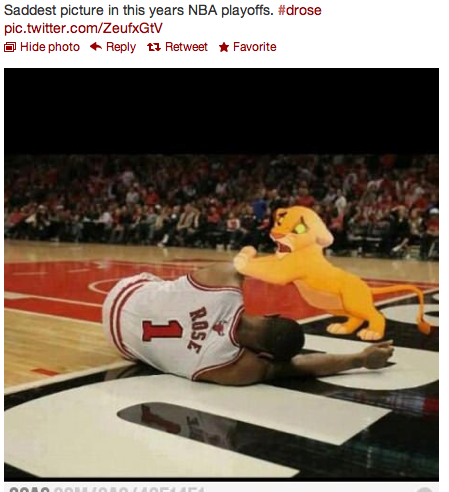 I was thinking earlier how crazy it is how Twitter has evolved so quickly. Not only can you discuss your own personal thoughts and ideas, but I love how you can relate to others and feel the pain and love of others as well. The 5th game of the series is tonight at 8:30. I'll be watching it in my basement alone knowing if they lose it will end in tears. (I'm being dramatic, but I'm going to be mad) I am also really hoping for a turn around in this series and to be able to see happy and positive tweets on Twitter regarding the Bulls. Until then, we wait until 8:30….. very impatiently.