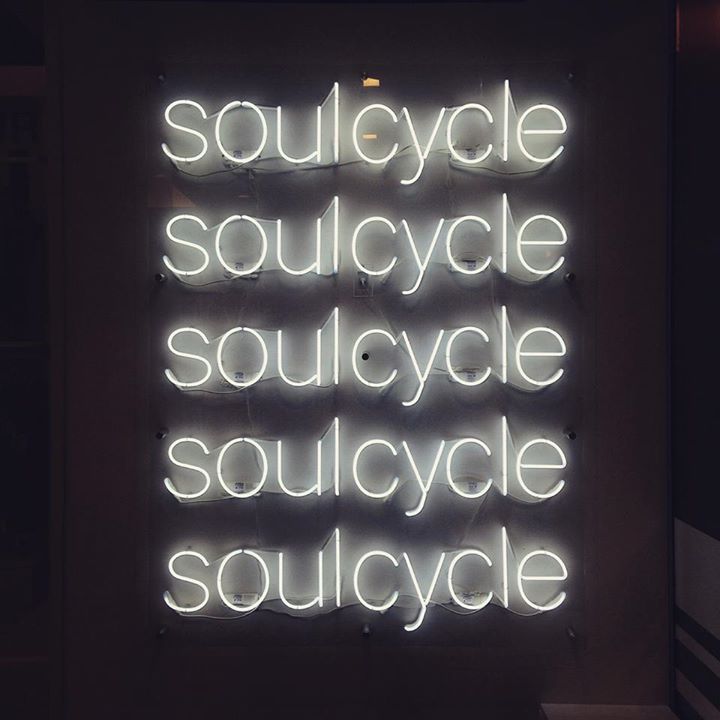 Everyone appreciates good customer service (take notes, Comcast), but what about companies that go above and beyond? I'm talking outstanding customer service before you're even a customer, customer service. I could only be referring to the wonderful company that cycled its way straight into my heart, SoulCycle.
SoulCycle is a religion, cult, out-of-body experience part dance party, part workout, part therapy and part communal high. It consists of 45 minutes of indoor cycling mixed with full-body workouts and choreography to work your core. There are currently around 46 studios across the country with more to come. Much of the strength of SoulCycle's brand comes from the personality and magnetism of the instructors and before I even stepped foot into the studio, I found this to be true.
I originally heard about SoulCycle from Stuart (one of my BFFs), who couldn't stop raving about it after just a few classes. He asked me to go with him and after some passive aggressive attempts, I agreed. I tried a spin class once in college at the local Y, so let's just say I was less than excited for my ride with SoulCycle (no, I didn't fall off the bike). I'm not the kind of person who normally buys into the whole positivity mantra stuff so obviously I had my eye roll perfected and ready to go.
I wanted to check out the SC Facebook and Twitter accounts before I booked anything and as soon as I did, I was sold. When the first thing you see is that an instructor's holding a Lady Gaga or Beyoncé themed ride, it's kind of hard not to be. SoulCycle's Twitter account is incredibly informative in a way that gets your attention, making sure to announce which instructor will be doing what ride and including the instructor's personal handles in each tweet. They're also constantly interacting with SC fans and customers, answering questions and offering words of encouragement.  The SC Facebook isn't lacking in this aspect either, they fit all the standard info into a post plus everything else that doesn't fit into 140 characters. Endless photos of happy SC riders, interactions with instructors, workout inspiration and videos that link to their YouTube channel… You want it? They've got it. There are over 91,000 SoulCycle hashtags on Instagram alone.

It's 2015 which means that obviously I had to document that I might be riding with SoulCycle, so I took to Twitter and let my fingers fly. Next thing I knew, my friend was retweeting me and @mentioning our soon-to-be instructor, Devin. If I hadn't been convinced that I wanted to ride already, Devin was the deciding factor. When I expressed my concerns/excitement, Devin immediately replied to me with a few words of encouragement and a *favorite*. Did I mention that I hadn't even met him at this point?! I wanted to book another ride before I even had my first, there's nothing better than someone cheering you on before you even take to a task.
Not only is something like this a great move on Devin's part as an instructor (and human being), but on SoulCycle's part as a whole. Their employees are incredibly tapped into everything social media, so much so that there's even a section on their website dedicated to the SC community – featuring blogs about members and instructors, health, music and even fashion. This makes it easy for current and future SoulCyclers to become, and stay, involved in the SC culture. Take a look at any of their social media platforms and you'll see that SoulCycle is hitting the social media nail right on the head and it sure doesn't hurt to have employees who absolutely live, breathe and love what they do. Cycle on, SoulCycle – I'll be seeing you again soon.