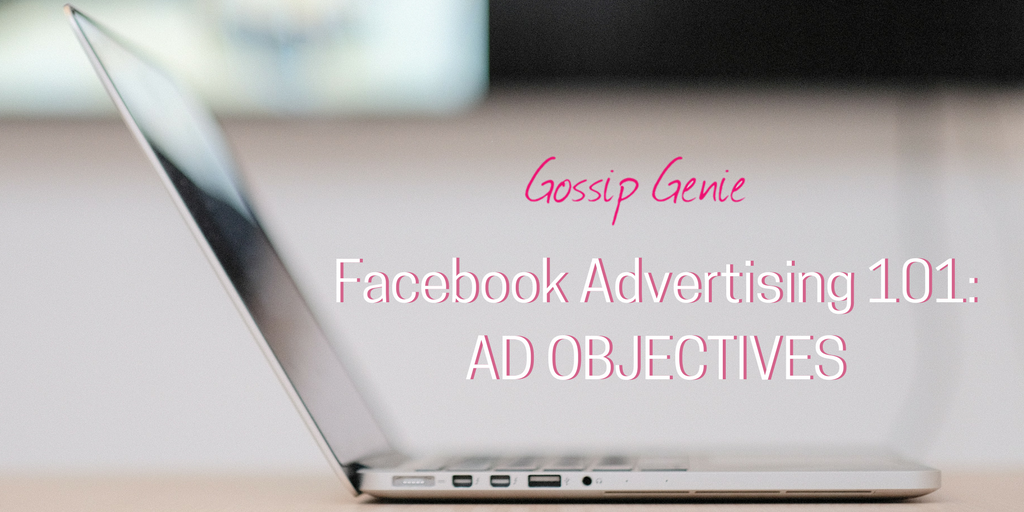 Closing in on 2 billion monthly users, there are endless opportunities for a business to reach new customers through Facebook ads and they are an excellent way to prove ROI for your various social campaigns.
In my next series of blog posts, I'll go through the different steps in creating a Facebook ad campaign. First, let's start with choosing your ad objective.
Step 1: Choose an ad objective
The first step in creating an ad is setting an objective. Each ad objective is designed to target a different stage in the sales funnel. There are three types of ad objectives: awareness, consideration, and conversion.
Awareness Ads
Targeted towards the very top of the sales funnel, awareness ads build top-of-mind awareness and interest in your product or service. These discovery ads are perfect to tell a brand or company's story and connect with new prospective customers.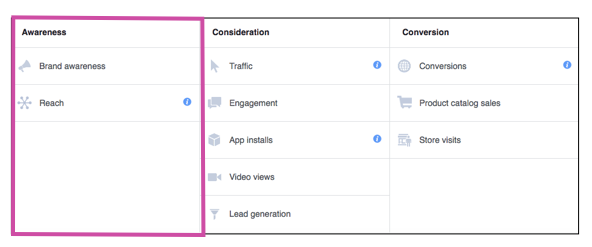 How to use Awareness Ads: Use awareness ads to build a base audience and create awareness of your client's brand. This is the stage where high-quality imagery and creative is key, such as infographics, 15-second videos, and photos that really pop. The idea is to build awareness, which means your ad creative needs to be memorable.
Awareness ads available include: Brand Awareness, Reach
Consideration Ads
The consideration ad type is targeted towards the top-middle of the sales funnel.  These types of ads get people to start thinking about a business, product, or service, and to look for more information about it. Consideration ads are great for most of on-site (and in-app) content, including blog posts, coupons, and email newsletters.

How to use Consideration Ads: Identify your client's top content and/or goals and amplify them through a consideration ad. Funnel potential customers to a lead-generating blog post, landing page, subscription page, etc. to that lead-generating blog post with an infographic traffic ad.
Consideration ads available include: Traffic to your website, Engagement (Page Likes, Post Engagements, Offer Claims & Event Responses), App Installs, Video Views, and Lead Generation
Conversion Ads
Conversion Facebook ads are targeted towards the bottom of the sales funnel and are aimed at directly increasing a client's bottom line, encouraging people to carry out a specific action or purchase a company's product or service. Conversion ads are the easiest to measure results, but also tend to cost much more than the other ad types.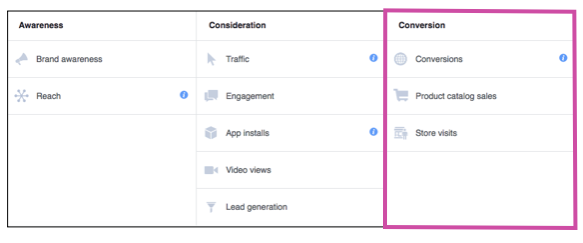 How to use Consideration Ads: Conversion ads are used in conjunction with a Facebook pixel, which is a snippet of code that follows users around the web. This pixel not only enables you to remarket to website visitors, but it also enables you to track behaviors on your site. Tip: Start with broad audience and let Facebook do the work of finding users most likely to convert and then use that info in next campaign
Conversion ads available include: Conversions, Product Catalog Sales, Store Visits
Stay tuned for the next blog post in the series on the different types of Facebook ad formats.