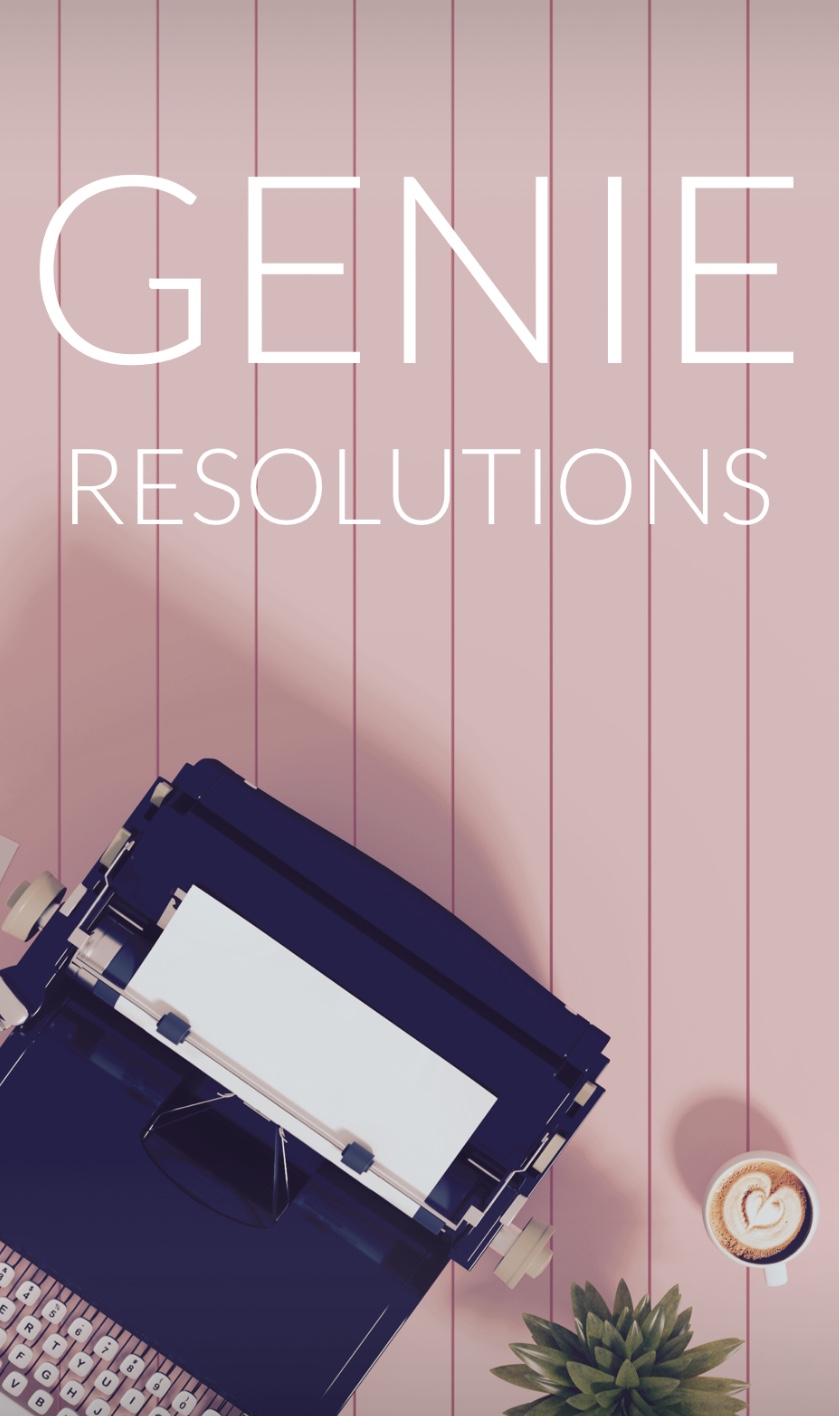 12 Dec

Genie Resolutions

According to Business Insider, 80% of New Year's resolutions fail by February. It's hard to adopt a new habit which is what most resolutions consist of. In my opinion, it's best to make a few small resolutions and build upon those. The less daunting, the more likely one is to follow through and keep building on it. A great way to compartmentalize resolutions is to make them for all areas of your life. Today, I am sharing resolutions from each of my colleagues.

Lizz's resolution is solid and in my opinion attainable: "For the new year, I'd like to hit the ground running and land more clients in industries that I'm highly interested in, like the food/beverage space. Not only do we thrive in that arena, but we are also seeing such an explosion of interest in social media for food companies. There is so much potential for them to shine in 2018. I'd love to learn more about photography (even more than I've already learned from Taryn our fabulous photography expert), and I also can't wait to continue to get closer to my team and enjoy the exciting year ahead as a Genie!"

Speaking of Taryn, her resolution is great because it's very specific which makes it easier to visualize and attain. "I want to get my Facebook advertising certification and I want to successfully land 1-2 new businesses for Gossip Genie."

Keenan gets specific which will help to better track his progress and we can all push him as he accomplishes his goals. "In 2018, I hope to add video to at least three current or new clients. I also hope to take a class to expand my knowledge of animating, editing and filming. My biggest professional goal for 2018 is to deliver a video that 2017 Keenan would be jealous of."

Janelle has 3 goals which make up her professional resolution. "Get Gossip Genie publicized in the media, take a photography and photoshop class to learn new skills and techniques and sign a new client to Gossip Genie."

Violet's resolution is all about the visuals, "In 2018, I want to spend more time on creating meaningful visuals for my various social media channels. Photos, videos, and infographics continue to rise in popularity, so it's important to hop on the bandwagon. A picture is truly worth a thousand words when it comes to social media."

Anthony wants to expand his knowledge by continuing education classes and educational enrichment. "I want to start reading more and learning more about our industry to stay even more up to date on the latest trends. Social media and the marketing industry are always changing and sometimes it can seem like a hard task to keep up with the ever-changing trends. In 2018, I'm going to seek out more webinars, books, articles, podcasts, and workshops that can help keep me  (and my clients!) up to date. Personally and professionally in 2018, I want to take more risks and take more opportunities as they come up, including seeking out growth opportunities for Gossip Genie."

As for me, my professional resolution is to focus on quality over quantity. I want to focus on the higher priority, bigger opportunities rather than trying to do everything that comes my way and spreading myself too thin. Per usual, I want to dedicate the majority of my time to business development in order to continue our year over year increase in revenue.

We would love to hear your resolution(s), please share in the comments below!