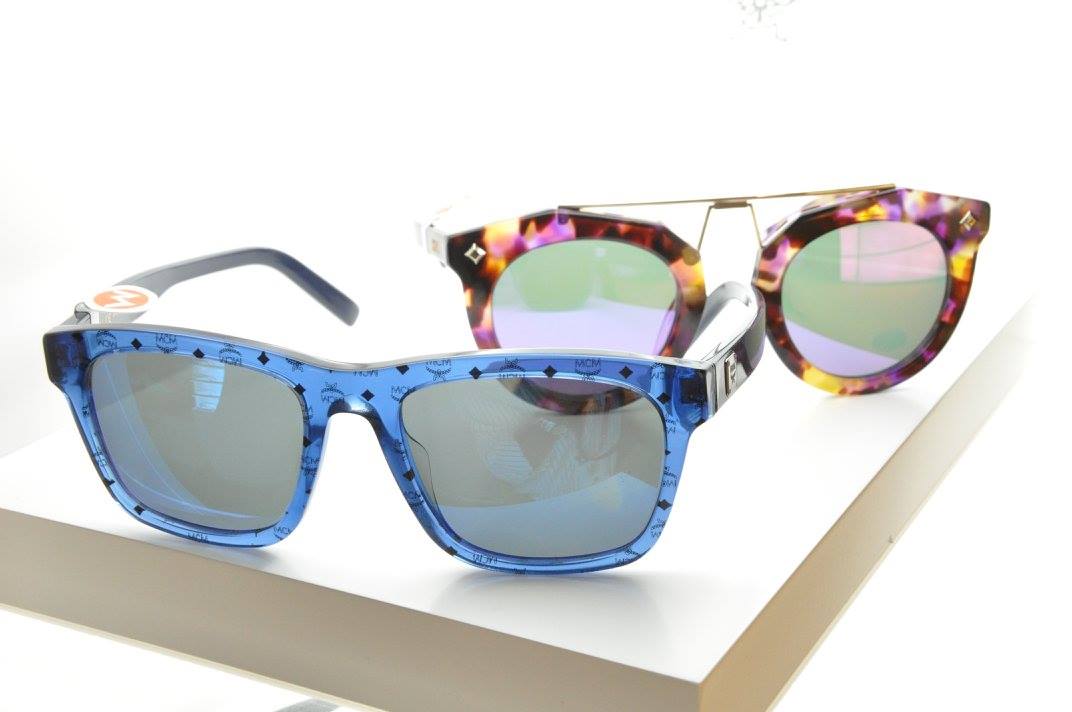 Last month, I had the pleasure of attending the International Vision Expo in Las Vegas and live covering the event on social media. The International Vision Expo is a conference and expo for the eyecare and eyewear industries, displaying the latest in fashion, technology, and education. Gossip Genie previously attended Vision Expo East in New York but we had bigger role at Vision Expo West and incorporated a wealth of new campaigns to drive engagement and increase reach at the show.
As a result, interaction with the show via social media reached record levels at Vision Expo West 2016, with a 700 percent increase in Facebook engagement over 2015 and more than 30 percent increase in Twitter impressions. The official show hashtag, #VisionExpo, was used more than 4,500 times during the show, and more than 20k people viewed the official Vision Expo Snapchat filter.
Here are a few tips to increase social media engagement at your next tradeshow or event:
1. Highlight exhibitors in unique ways
Vision Expo West offered 180,000 square feet of exhibit space with more than 100 new fashion brands debuting fall lines so there was a lot of ground to cover! It's important to feature the many different brands present but with so many exhibitors, it can be hard to think of new and unique ways of highlighting them. Getting face time with the owners and designers behind the eyewear at Vision Expo was helpful to gather interesting information and tidbits to tweet out and use for content.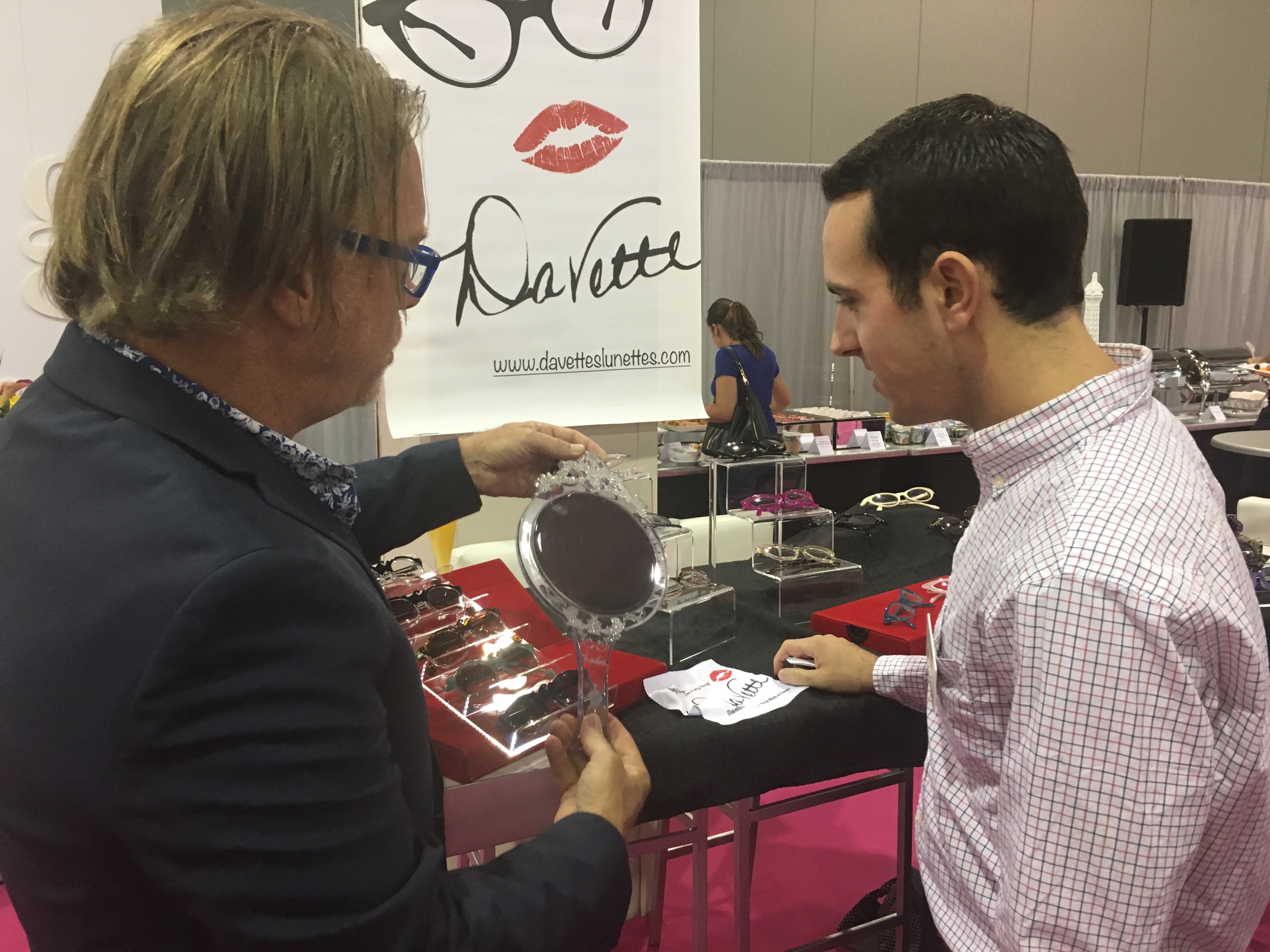 2. Use video to engage people who can't be there
A major component of our social media strategy at Vision Expo West was to increase the use of video at the show. Prior to the show, we teased the event through video clips from past Vision Expo attendees and exhibitors to drive registrations for Vision Expo West 2016. We also launched a Snapchat account for the show where we used video to document key events at Vision Expo West, including a party at Tao Nightclub. Our Snapchat stories were viewed over 20,000 times. During the show, we used Facebook Live to broadcast the Vision Expo Pop-Up Talk series, the most popular of which featured a model showing off the latest fall eyewear trends. This allowed the audience at home to get insight into the interesting things and educational courses happening at the show.
I also had the chance to film '90s singer Lisa Loeb, who was debuting her eyewear line at the show, on Facebook Live and interview her about her frames.
Video content really gives your audience a behind-the-scenes look at the event.
3. Connect with local bloggers to attend the event 
A great way to increase the reach and engagement on social media for your show or event is to have influential bloggers attend. We incentivized bloggers to attend with a free pair of designer eyewear. We also had the bloggers host a giveaway on their blogs with the eyewear to help increase our engagement with the #VisionEpxo hashtag and expand our follower base. This was a win-win for the blogger and the exhibitor, Marchon Eyewear.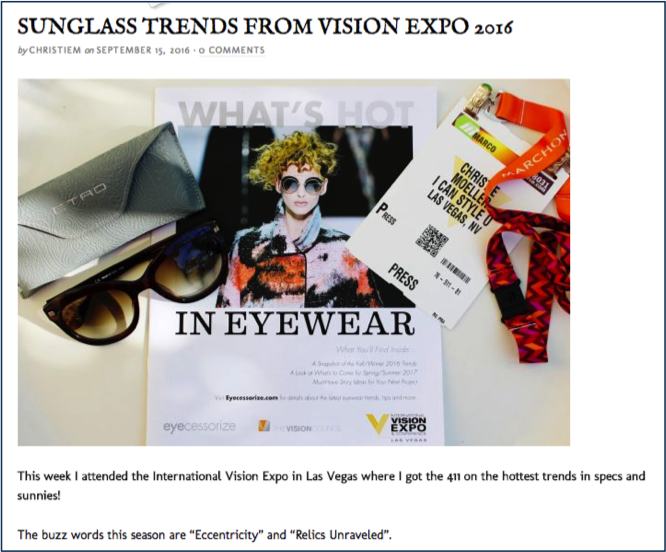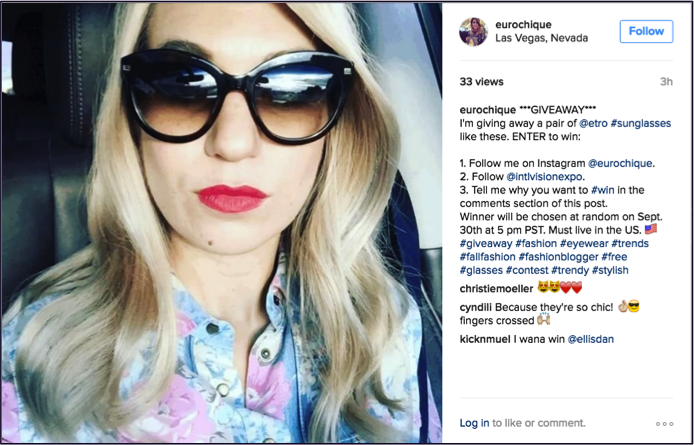 4. Promote the hashtag and always use engaging, high quality photos
It goes without saying, but captivating images always resonate better. We were lucky to have some amazing frames and displays to photograph and share on social media!