25 Sep

Monday Night Football causes Twitter Frenzy

Monday nights to me, does not necessarily stand for Monday Night Football. It's actually more like The Voice and Dancing with the Stars but nonetheless, it was nearly impossible to avoid catching up on the NFL Twitter banter that was happening after a highly controversial play during the game between the Green Bay Packers and the Seattle Seahawks.

For those who don't follow sports, social media, news or may live under a rock, here's a recap:

The Packers lost to the Seahawks last night when a pass by Seattle quarterback Russell Wilson was actually intercepted and called as a touchdown after the NFL's replacement referees had quite the disagreement. Once the play was made, one referee signalled touchdown and another interception.  After they reviewed, the referees called it a touchdown and the game ended.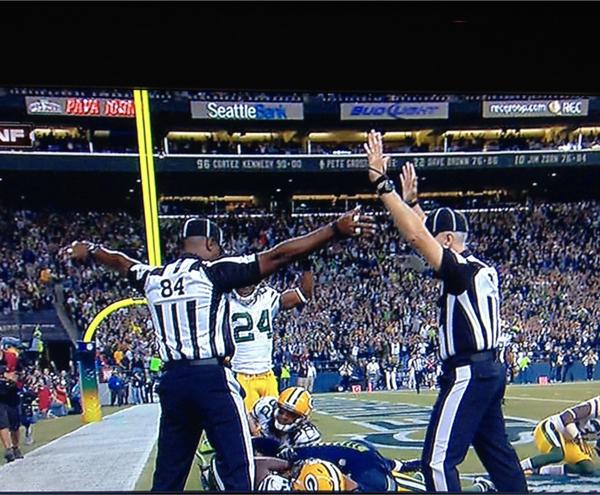 Bluefin Labs broke down the social-media stats: 56,263 social media comments per minute (these include public tweets and public Facebook posts) at the end of the Packers-Seahawks game were sent. There were 1.9 million comments in total on Monday night's game and 23 percent of all those comments were related to the refs! CBS Sports reports on the stats: " A good measuring stick? 25,415 comments/minute were sent when Usain Bolt won the 100M in London during the Summer Olympics.

Events in the past have had a similar effect on Twitter.  For example, The Super Bowl, the passing of Steve Jobs, the capture of Osama Bin Ladin and even Beyonce's MTV Awards baby bump incident. The NFL is nothing to joke about in America and when you combine this with the social tools to express your free mind, you can expect a Twitter frenzy at its finest! How did we express our sports rage before social media? Did you join in on the Twitter banter last night?