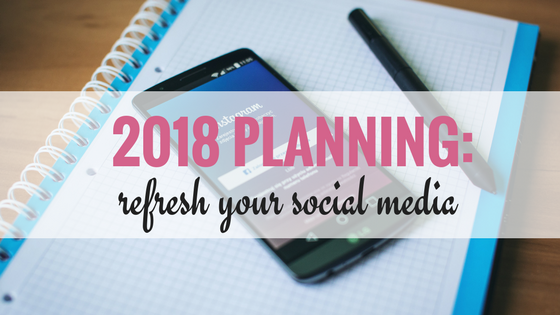 As we get ready to bid adieu to 2017, it's a great time to start thinking about your 2018 marketing initiatives and how you can breathe new life into your social media feeds. Take a look at some innovative campaigns that we have been running for our clients to reinvigorate their presence before the New Year.
Revamp Your Look
Head into 2018 by doing an audit of your social media channels and updating your cover photos, "about" section, logos, etc. Facebook recently implemented cover videos, which is a great way to revamp your page. Check out the Facebook cover video for our client Matt's Cookies.
Run a Contest or Giveaway
Running a contest or giveaway on your social channels is one of the most impactful ways to increase engagement. Accounts that run contests on a regular basis are noted to grow 70% faster than those that don't (Source: Sprout Social). Stay tuned for more info on holiday giveaways we're implementing for our clients!
Implement a Social Media Takeover
Inject new life into your social media feed by allowing someone else to take over. Putting your account into someone else's hands is a great way to get in front of a new audience, thus increasing your follower base and engagement. During our client VIsion Expo's tradeshow in Las Vegas earlier this year, we had an influential optometrist take over the Vision Expo Instagram, resulting in our most popular Instagram posts and stories of the month. You can learn more about the takeover and Vision Expo here. 
Take Advantage of Instagram Stories
Instagram Stories are all the rage, essentially replacing Snapchat. It helps stay top of mind with your audience and is a cool way to introduce new content. Violet recently wrote about how to market your brand on Instagram, including using stories. Check it out here.
Utilize Short Video Content
Video is a must for any social media campaign. While long-form videos are useful in their own right, short, bite-sized clips (even an animated photo), can do a world of wonder to your social media's organic reach and engagement. Short clips are easy to create and edit and can make a huge impact.
Team Up With Another Brand
This gives your brand exposure to another audience and co-marketing is a win-win situation for both brands. Consider a cross-promotional contest or giveaway, blog post exchange, or Instagram takeover.
How-to's & Tutorials
Give your audience a little education with how-to posts, such as recipes. We regularly share recipes on our client Cafe Turino's pages, which receive incredible engagement.
Go Live
People spend three times longer watching Facebook Live videos over pre-recorded content. Live streaming is a great way to answer questions and educate your audience. We recently hosted a few Facebook Lives on our client Vision Expo's account to highlight their tradeshow exhibitors and answer questions from the audience.
Poll Your Audience
People love to share their opinion. Get a pulse on what your followers are into but polling them on Twitter. It's a fun, easy, and unique way to engage your audience.
Share a Milestone
Celebrate your successes and victories with your followers! Hit over 100K fans on Facebook? Thank your audience and promote this milestone.