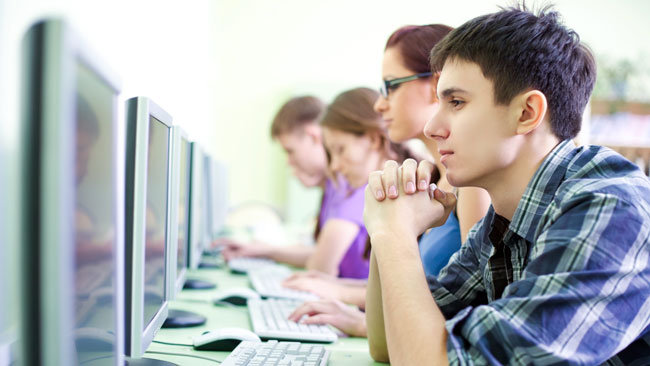 When meeting with prospective clients, one of the most common questions I seem to hear is "Are younger people even using Facebook anymore?" They're mostly referring to the recent study that came out that declared teens are leaving Facebook at an alarming rate for newer social media apps like Snapchat and Instagram.
First, let's look at the numbers. 
According to iStrategyLabs, 25% fewer teens in the United States are using Facebook than they did in 2011. Those numbers, drawn from Facebook's Social Advertising platform, which are presented in a chart comparing users from January 2011 and January 2014, show that the amount of teens on Facebook aged 13-17 has fallen 25.3%. Those in high school over the same period fell 58.9% and college students on Facebook decreased by 59.1% over the same period. iSL tracks users through Facebook's advertising interface, in which advertisers can slice and dice segments of users and buy whatever audience demographics they want. In 2011, there were 13.1 million teens available for advertisers to target. This year, there are only 9.8 million users aged 13-17 available, iSL says.
(Source: Business Insider)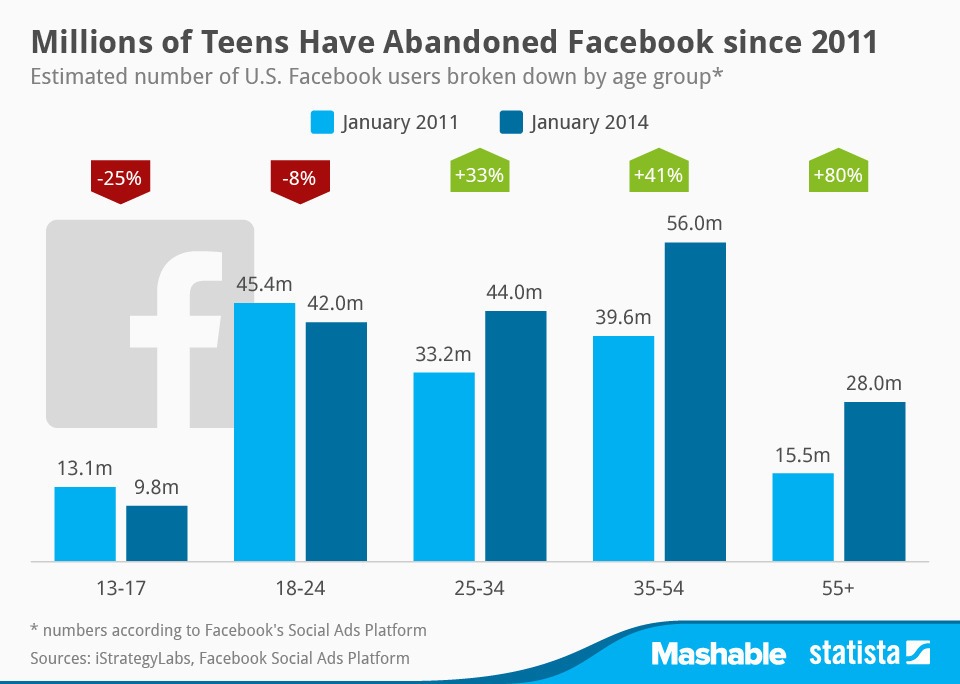 But, does it matter?
While these numbers look alarming at first, when you compare them to Facebook's overall dominance in the social media field, they hardly spell doom and gloom for the social networking giant.
Currently, there are 1.23 billion monthly active Facebook users in the world and 128 million daily active users in the United States. For advertisers, the coveted 18-34 demographic is still strongly active on Facebook, with 66% of 15-34 years old engaging daily on the social network.
The 25-34 age range is up 33%, the 35-54 demographic is up 41% and those ages 55+ on Facebook has increased by over 80% from 2011 to 2014. These are the age demographics that are ultimately buying into the businesses or products being advertised on Facebook. As a business and advertiser, to ignore these rising demographics (ultimately, the age of people making the purchasing decisions) would come at a significant loss.
(Source: Facebook User Stats)
Consider who are you advertising to. 
It all depends on who you are targeting on Facebook. Advertisers covet younger audiences because their taste in products are more malleable. But advertising on Facebook isn't just about its massive reach with younger users. A big part of Facebook's advertising is that it has so much information about its users to pull from that you can effectively target ads to those who will be responsive to the content.
At Gossip Genie, the conversion rate for most of our ads for our clients is close to or over 100% because of the specific targeting we are able to do through Facebook. If your target audience is solely younger teens, then maybe this decrease in users will matter to you, but it all depends on who you want to target. And while the 55+ plus crowd may not be as sought after by advertisers as the 18-34 age range, neither are the 13-17 year olds.
Also, consider the source.
The decline in teen users isn't backed up by any actual Facebook numbers. They were pulled from the advertising platform on the site and therefore aren't accurate predictors of actual Facebook user numbers.
On the company's Q3 earnings call in October 2013, Facebook CFO David Ebersman said:
I want to say a few words about youth engagement on Facebook. As we've said previously, this is a hard issue for us to measure because self-reported age data is unreliable for younger users. So we've developed other analytical methods to help us estimate usage by age. Our best analysis on youth engagement in the U.S. reveals that usage of Facebook among U.S. teens overall was stable from Q2 to Q3. But we did see a decrease in daily users specifically among younger teens.
While there is definitely a decrease in younger users, there are no definitive numbers to back it up. And, according to a study done by Singapore and UK-based market research firm GlobalWebIndex, Facebook is still the dominant, most popular social network on the planet among teens with 67% more active teen users than the nearest competitor, YouTube, which is regularly used by 29% of 16 to 19-year-olds. Twitter is third most popular social network with 26% of 16 to 19-year-olds around the world using it on a monthly basis.
A shift in Facebook's image.
Many suggest that Facebook's fading cool factor with teens comes from the fact that the young teen demographic is the first group of people who've had their lives documented online from birth. They are keenly aware of their "digital footprint" and are looking for apps and sites where they can share content freely and privately (aka Snapchat where the image is gone in a few seconds or Instagram where their parents probably don't have a presence).
Does that matter for Facebook advertising? A new report from Creative Arts Agency's The Intelligence Group suggests that while young people might be using Facebook less than they used to, the social media giant might still be the best place for brands to target them.
The Intelligence Group found that a dominant 55% of the 900 millennials it polled said they would most prefer brands to communicate with them on Facebook rather than rivals YouTube, Twitter, Instagram, Pinterest, and Tumblr. Facebook's next closest competitor in the poll was YouTube, which earned 20% of the vote.
Sure, younger teens may be heading to newer things like Instagram, the fastest growing social network, but there are only 150 million Instagram users compared to Facebook's 1.23 billion. And don't forget, Facebook owns Instagram now.
As long as you provide value, relevancy, great information, and something you can't get elsewhere to your specific target market, your presence on Facebook is still hugely important to your brand.