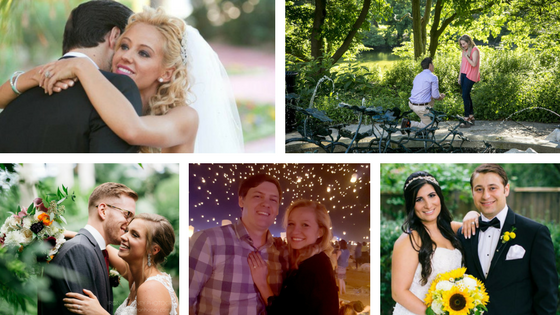 14 Mar

Why You Should Use A #WeddingHashtag

This one is for all of the brides, grooms, and wedding planners out there.

I know there's a lot on your mind like, "what flavor filling should be in the cake," or "which song should Grandma enter the ballroom to," but let's talk necessities. The cake will be awesome, grandma will be adorable, but did your wedding even happen if you can't find UGC from your big day? Here's where a wedding hashtag comes in. In 2017 a wedding hashtag is essential for any couple's big day. Luckily, you have me and I'm here to help guide you through the hashtag creation process with ease. 

Not convinced?☝️️Look at how nice these are! ☝️️

I got married on October 8, 2016, and it was the best day of my life. In fact, the day was so magical that it actually became a blur in my memory. As much as you try to soak in everything, it's still an overwhelmingly amazing day! For that reason, I can't tell you how excited I was when I was able to wake up the next morning with my new husband and look through our wedding hashtag. Because of our wedding hashtag, we were able to see our wedding through the eyes of our friends and family.

When someone uses your hashtag, Instagram populates a feed with all the images associated with the unique hashtag you've created. It's basically one big photo album filled with love and joy, without doing all the work of asking people to send you their pictures. Honestly, it's a win-win for both the guests and the bride & groom. Because what guest doesn't love to take pictures at weddings? They get dressed up, have a cocktail in hand, and want to share their amazing night celebrating the bride and groom with their friends. Give yourself a break and let wedding guests help out by adding in that simple #hashtag. The happy couple gets to enjoy wedding bliss for days on end!

How do you create a wedding hashtag?

This can be easy and tricky at the same time. You can use a wedding hashtag generator website, which does the work for you. As expected, the only downside of this is that the hashtags it generates can be a little generic. But don't worry, there's nothing wrong with that! I actually used a generator for mine because I was so busy wedding planning and I just wanted this marked off my to-do list.

If you're looking to get a little more creative with your wedding hashtag, don't be afraid to ask for help! Have your friends, family or even our team of Genies to give you some suggestions.

Try to keep these tips in mind:
Short and sweet is always nice! Your guests won't want to type anything too long while uploading the photo.

Do not put any dashes, periods or commas in there. That will break the hashtag!

Have the hashtag relate to the couple. Use your new married name or the date of your wedding. Try to stay away from something everyone will have such as #JustMarried or anything like that!

Don't overthink it! That's all. No explanation there! 
It's been 5 months since my wedding and I still look through those photos from our hashtag to relive that beautiful day. I know there's a lot on your plate, but put this at the top of your list. You won't regret it. I promise! #YouCanDoIt